Our Guarantee to You
We understand how devastating it can be to lose your hair — and we're thrilled to lead you on your hair growth journey. Together, we've developed highly effective regrowth formulas using the most advanced ingredients science and nature have to offer.
Shapiro MD products come with a 90 day Satisfaction Guarantee.
On behalf of our entire team of Hair Growth Experts.
Exclusions* apply, see our full return policy here.
Unrivaled Expertise In Hair Growth

At Shapiro MD, we know that one size does not fit all. When you begin your journey with Shapiro MD, you're getting the best guidance with a personalized system for you and your hair.

Our physicians been helping men and women regrow hair for over two decades. Every situation is different, which is why our personalized plans incorporate a spectrum of solutions to address unique hair loss scenarios:
Thinning Hair

Hair Regrowth

Hair Loss Prevention

Receding Hairline
Rooted In Nature, Refined Through Science.
The very same natural mechanisms that drive hair loss can be used to stop it.
Our offerings deploy a combination of naturally-sourced and clinically proven ingredients to boost follicle health and support hair regrowth.
DHT-Defense to Support Hair Health

Many of our products use naturally occurring extracts like EGCG, caffeine, and saw palmetto for their ability to defend and support hair health where it matters – at the root.

Take Our Free Hair Quiz

Start your hair growth journey by taking a brief medical questionnaire. This quiz will tell your Shapiro MD specialist exactly what they need to know to select the right hair loss solution for you.

Take quiz

Get a Personalized Treatment Plan

Shapiro MD's Hair Growth Experts will provide the ideal treatment plan for you. Start your regrowth journey with confidence knowing your physician is only a message away.

Get started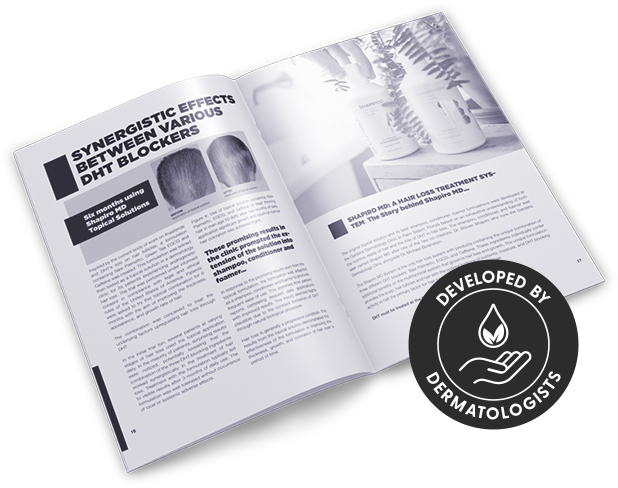 Informed by Private Practice and Clinical Research
Shapiro MD's proprietary formulations, FDA-approved offerings, and personalized treatment plans are informed by clinical research and our experience working with patients at our private dermatology practice.